Warning
: Illegal string offset 'filter' in
/var/www/wp-includes/taxonomy.php
on line
1677
No Spray Hawaii was created by people like you. 

Individuals who would like to see a positive change for the future.
About the Founders: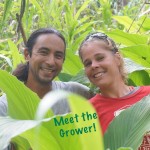 Jesse Fujimoto and Laura Rieber are Natural Agriculture Solution Specialist, providing others with natural alternatives to the utilization of toxic pesticides and synthetic fertilizers on our lands to grow food and maintain landscapes. The future of chemical free, sustainable island agriculture is a focus point in how they present solutions and manage problematic pest that troubles our island residents. Every decision enhances the ecosystem and aids in the rehabilitation of damaged areas. They have been partners in business and life for over nine years where they have traveled the globe and lived on multiple Hawaiian Islands. Together they have started No Spray Hawaii and Hawaii's Simple Gourmet Chocolate. Both are unique businesses that utilize each of their individual skills and strengths to truly help in creating a better future for tomorrow.

Jesse Fujimoto, Co-Owner, Co-Founder.
2012 – Present
Jesse was born and raised in Kaneohe, Oahu, but it took moving to the Big Island to find home. Here he has continued his education and obtained a Certification in Aquaponics after finishing a yearlong internship at Friendly Aquaponics on the Hamakua Coast of the Big Island.  He has also obtained multiple certification in Business Plan Development for Farmers and Agriculture Education Development in which each workshop included 90 hours of training both in the field and in the classroom. Jesse is a Certified Forest Steward for the Islands of Hawaii obtaining a certificate of completion and training from the University of Hawaii. Over the last six years, Jesse has worked on personal research and development of systems to help others utilize nature's principles to grow food including perennial propagation, tree planting, gardening techniques, successful composting and utilizing earthworms for nutrients and pest control. The more his knowledge grows about the land on which he was born, where he chooses to live, farm and develop, the more he feels that he must share a solution to the rising chemical warfare on our land and food. That's how he created, lives and continually promotes "No Spray".
Laura Rieber, Co-Owner, Co-Founder.
2012 – Present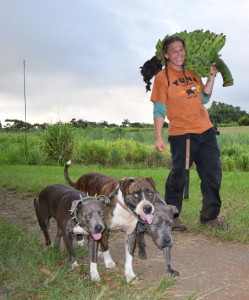 Born in California, Laura moved to Hawaii when she turned 18 after graduating in the top five of her class to attend the University of Hawaii at Hilo. During the last nine years, she met her boyfriend, Jesse; traveled to multiple different countries; and obtained a Bachelor of Science in Agriculture with focus on Sustainability from the University of Hawaii, Hilo. Under the guidance of Dr. Sabry Shehata, she participated for two years in the National Agriculture Association (NAMA) country wide farmer business plan development and presentation competition. As the club leader, her team won "The Most Innovative Idea" award while presenting in California. She, along with Jesse received two different certifications in Farm Development. One in Business Plan Development for Farmers and the other in Agriculture Education Development. Both requiring over 90 hours of training. Laura has a passion for helping others learn the basic concepts of natural agriculture and enjoys teaching others through hands on learning, reading and sharing information, as well as finding new ways to spark interest in others to learn about nature. Laura has designed a natural agriculture training courses for a non-profit aimed at assisting returning veterans to learn to grow food easily and effectively. She believes that if she gives a family food from her garden they eat for a day or two, if she teaches that family to garden they can eat for their entire lifetime!
Together:
Together, Laura and Jesse have accomplished housing and teaching over 30 different individuals from around the world including the United States mainland, Japan, Australia, New Zealand and Germany the basic concepts of nature and how to start their own garden. They have also designed natural agriculture development techniques through courses. They created a website, www.NoSprayHawaii.com to provide free information to the public and currently receives over 1,500 visits a month. They have led teams to help multiple small farmers with "work-parties" where they assisted the farmer by providing free labor from active, young community members in a project to prevent the need for using chemicals or machinery like tractors on the land. Over the years they have gained extensive experience in designing and maintaining permaculture (permanent agriculture) landscapes in which the plants and animals themselves provide all the necessary nutrients, minerals and pest control needed without the use of synthetic fertilizers or chemical pesticide sprays like herbicide.
To continually grow as agriculturists without "farming" and "developing" more land themselves, Jesse and Laura teach and consult so others too can grow food effectively. They have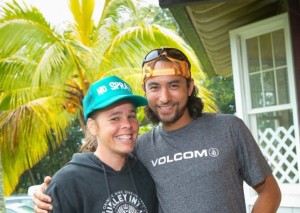 also created Hawaii's Simple Gourmet to help encourage small, natural and organic farms to value add the plants and animals they enjoy producing. They believe this is how small farmers can become successful and profitable without further exploitation of the land. Creating the website and information base, www.HawaiisSimpleGourmetChocolate.com was the first step in connecting all these small farmers together to help them with ideas, outlets, product creation and further development.
Laura and Jesse have a true desire to teach the basics of growing food to the future so we once again can be fed wholesome, healthy food which is proven to be the base of a healthy body, mind and world. Hawaii relies on shipments for over 80 % of the food they consume, Laura and Jesse are helping reduce this number by teaching others to incorporate easy to learn concepts and methods which have been their solution. To learn more visit: www.NoSprayHawaii.com , www.HawaiisSimpleGourmetChocolate.com and email to set up a meeting!
More about our team:
Monique Moreno, Social Networker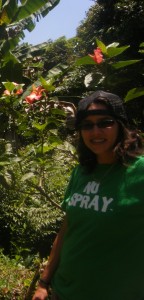 2012 – 2013
Monique grew up with the values of island life, being raised on Kwajalein in the Marshall Islands before she obtained a Bachelor or Arts Degree in English from the University of Hawaii at Hilo. Along with connecting No Spray with others through social media, Monique is currently utilizing her writing skills by creating a self designed web page for a co-started small business making handmade dog collars. She enjoys hanging out with her animals, working in the garden, and enjoying island life.
Darlene Rieber, Editing Specialist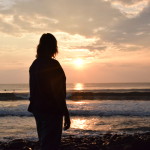 Born in Ohio, moved to California at age 12, met her soul-mate in high school, married at 18 (still married 37 years later), have four adult children (third born is Co-Owner/Co-Founder, Laura Rieber), edited manuscripts for the County of Orange, graduated from College of the Desert, with an AA; graduated from Cal-State University, San Bernardino, with a MA; has her teaching credential/MA in Special Education.  She has been teaching for 16 years, was an Instructional Aide for 8 years, and has worked with and taught children her entire adult life.  She helps her disabled husband tend his organic (elevated) raised garden (on their third floor patio). She has a strong desire to move to, live, teach, and retire in Hawaii.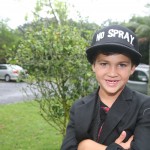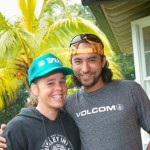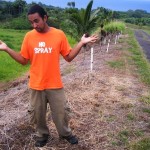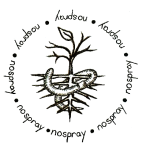 No Spray