Warning
: Illegal string offset 'filter' in
/var/www/wp-includes/taxonomy.php
on line
1657
Who We Are

: Natural Agriculture Solution Specialists (Permaculturists)
What We Do:

We assist you with increasing your yields while reducing your inputs.

We have the research, the understanding, the expertise and the experience to teach you how to grow food easily, effectively and efficiently! As Natural Agriculture Solution Specialist, our abilities lie within providing others with sustainable alternatives and successful methods in growing food, maintaining farming operations and landscapes, here on the Hawaiian Islands.

This includes:
Natural Weed and Pest Management

Ecosystem Rehabilitation

Soil Creation

Conversion of conventional agriculture practices to natural

Sustainable Development
More About our Consultations:
All of our garden, farm and personal consultations will bring you some knowledge, awareness and an understanding of natural agriculture principles that you did not have prior. We do this by talking with you individually and answer the questions that you have with the knowledge that we learned and wisdom that we have gained in the best manner possible. We try to work with our clients to ensure the most understanding.  Regardless if your desire is to just start a garden, transform an existing landscape or create a dream come true, we can help you do so in a sustainable and responsible manner (or explain why it can't be done so). Read about our recent projects.
We offer two different types of consultations. The first is to help assist you with generating an income from the land in a sustainable and ethical manner. If you want to start a profitable agriculture business, this would be your choice.  The second is to help you grow food on your property for yourself, family and some others in the community.  If your looking to start a garden, this would be your choice.
What best describes your agriculture desires?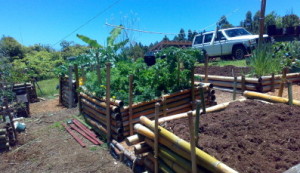 ---
---