Warning
: Illegal string offset 'filter' in
/var/www/wp-includes/taxonomy.php
on line
1677
Natural Gardening Classes
Permaculture Based!
Learn how to garden naturally in Hawaii!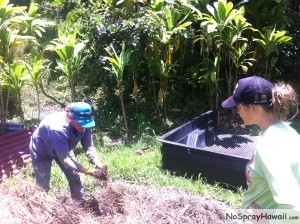 Learn natural gardening with No Spray Hawaii on a 10 acre Hawaii permaculture homestead surrounded by two flowing rivers, fruit trees, gardens, bamboo, wild vanilla and Hawaiian medicinal plants! Hands on learning with lots of visual aids! We really want you to learn~ it is the only way to make a true collective change!
 Come see the natural garden and understand how it thrives with very little effort and minimum amount of weeding! How? Permaculture… Permanente agriculture! We help you to understand how to incorporate nature and work with her instead of controlling.
Growing Food is Easy when YOU Understand Nature!
This class has been designed for the beginner or avid gardener. Concepts and Principles are taught in basic, simple terms- for anyone to be able to understand and teach to their family, friends and children!! Learn how nature grows her abundance of jungles, forest and beautiful landscapes and then utilize those principle yourself in your own garden, homestead or farm! Email for more information!
Concept 1: Introduction to Nature

Concept 2: Beneath the Surface : Understanding Soils

Concept 3: Death is A Part of Life

Concept 4: Grow what Grows Well

Concept 5: Solving Problems
Private Teaching!
This class is information packed two day course-!
 9 am – 4 pm
Lunch Provided!
Also Included is a take home information packed folder!
PowerPoint, handouts and hands-on opportunities to put new concepts in practical use!  Learn the basic concepts of natural gardening
One to One interactions, questions answered and personal ideas enhanced! Information is broken up into four different classes, allowing you to really have the new concept sink in and still be able to ask questions. PowerPoint presentations included! Handouts! Hands- on Learning Labs! Perfect way to learn about natural gardening.
Let us help you make your dreams reality!
 $350 Person / $600 Couple
Contact for Group Rates!
Regardless of what type of agriculture venture you dream of having we can help you get there chemical free!