Warning
: Illegal string offset 'filter' in
/var/www/wp-includes/taxonomy.php
on line
1603
Water / Moisture

Six Soil Health Factors
2. Water / Moisture
=============================================================
2. Water / Moisture
We need water to survive and so do our plants. Water keeps everything alive. Although there are some plants that have adapted to living and reproducing in the driest of environments, this is an extreme and most plants that we are willing to eat, need a constant amount of moisture in the soil.
Too little and too much moisture can be fatal!
We all know what happens when there is too little water. Classic signs of lack of sufficient moisture are when leaves lose their structure and wilt up. Some plants will survive mild cases of wilting, while many will die and have to be reseeded.
Too much moisture can also be just as detrimental to the health of a plant. Too much rain for instance can easily leach away precious nutrients in the soil. Too much water in the soil can also cause all the oxygen to leave literally drowning the plants. Good soil will have 25% water, 25% oxygen, 45% minerals and 5 % organic matter.
Nature knows just the right amount.
In a forest, trees will naturally collect water to use while at the same time protecting it soil in the event of a sudden downpour. How? The structure of the plants, their location and the other types of plants that naturally grow around.  Leaves collect the water at the same time its leaves and branches are protecting the roots from being exposed from heavy rains.
How to maintain moisture
Mulch with organic matter. a good
mulch layer of 3 to 6 inches is best. This will
1. Protect the soil from direct sunlight
2. Help prevent moisture from evaporating on a sunny day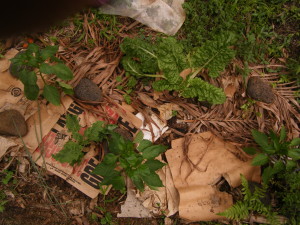 When you look out in a natural ecosystem you will find that nature always protects its soil. The soil is the sole source of its survival. When you garden, you want to mimic nature as much as possible and mulching is just one of those ways!
=============================================================
Six Soil Health Factors
2. Water / Moisture
3. Oxygen
4. Organic Matter
5. Life Above
=============================================================
For more information on soils CLICK HERE
For more information about soil microbes CLICK HERE
For information on Companion Planting CLICK HERE
To Read awseome stories submitted by No Spray Fans about the importance of "Knowing your Farmer" CLICK HERE
To Read about some unbelievable, absolutely delicious raw organic and home made chocolate CLICK HERE
For the Complete Reference List CLICK HERE
============================================================
About the Author: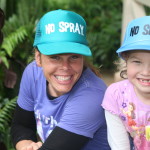 Laura Rieber holds a BS in Agriculture with a focus on sustainability from the University of Hawaii, several certificates in agriculture business development and is a master gardener. The moment she realized the corporate lies that feed the world was the moment she was inspired to write about the truth about natural agriculture. She co-created No Spray Hawaii with her partner, Jesse Fujimoto to help others gain awareness. She teaches natural agriculture principles on the Big Island of Hawaii. CONTACT 
==========================================================
"No Spray"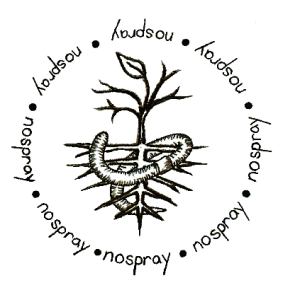 Find another way!